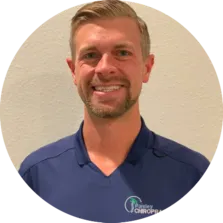 Cherith Paisley
DC, MS, FAKTR
Dr. Paisley frees people from pain in Sarasota, Florida. As an experienced chiropractor, Dr. Paisley is committed to promoting health and well-being for all.
Dr. Cherith Paisley was first introduced to chiropractic in 2003, when his father sustained a debilitating back injury. It was following this circumstance that Dr. Paisley realized the value of chiropractic care and decided to become a patient himself. Prior to becoming a Doctor of Chiropractic, Dr. Paisley attended Rend Lake College in Ina, Illinois, where he received his Associate in Arts and Associate in Science, specializing in business. He then went on to receive a Bachelor's of Life Science, a Masters of Sports Science and Rehabilitation, and a Doctor of Chiropractic from Logan University in Chesterfield, Missouri. Here, he also completed internships at Montgomery Health Center and St. Louis Physical Therapy prior to his graduation. During chiropractic school, Dr. Paisley focused his efforts on studying a multitude of chiropractic techniques with a focus in family care and athletics. As a competitive cyclist and multi-sport athlete himself, Dr. Paisley continues to understand the importance of chiropractic care in regard to athletic performance during training and competition. This is why Dr. Paisley has also been certified in FAKTR (Functional and Kinetic Treatment with Rehabilitation). FAKTR is a beneficial technique used to assess and treat the body in multiple dimensions with regard to fascial planes, soft tissue, and possible biomechanical imbalances that might interfere with a patient's progress.
Dr. Paisley uses chiropractic care to improve the health and wellness of each patient's life. Whether they have problems with back or neck pain, or just want to feel better when they wake up, Dr. Paisley's "whole person" approach to chiropractic care means he looks for the underlying cause(s) of disease, discomfort, and pain, as opposed to just treating symptoms. Many seemingly unrelated symptoms often arise from dysfunction in the spinal column. Dr. Paisley is able to identify and treat these particular dysfunctions through personalized chiropractic and wellness care. Dr. Paisley enjoys seeing his patients progress to living not only pain free lives but also reporting optimal function in all areas.